Alvin Hollis is one of our oldest and best clients and recently, we decided to take a road trip this past May to visit their facility in South Weymouth. They have been in business since 1871 and are an oil company that services the south shore of Massachusetts. As a company that has been working with Acu-Data for almost as long as we have been in business, they are an exceptional customer of ours. This our the story of the trip and how much Alvin Hollis means to Acu-Data.
The Alvin Hollis Culture and History
When you enter the facility in South Weymouth, you can immediately tell that the culture is a rich one and everyone who works there cares about the company. Since they have been in business for more than 140 years, they have a lot of history to be proud of and you can see it first hand in their conference room. The room is filled with old photographs that tell the history of Alvin Hollis.  You can even find one photo of the founder, Alvin Hollis, delivering ice in horse-drawn wagons, which was how he started the company. You can see other components of the company history from the selling of firewood, coal, grain, flour, and coal as part of their amazing journey.
Alvin Hollis Today
The company is vastly different because of a variety of factors including technology. Instead of ice, they now deliver bioheat and sulfur-free bioheat oil. Additionally, they install heating, hot water and air-conditioning equipment, offer plumbing services, perform repairs and maintenance, and have started working with renewable energy. It is still a family run business with James Bickell, fourth generation, as the president, and Laura Bicknell Carbone, fifth generation, serving as the vice president.
How We Work With Alvin Hollis
We have worked with Alvin Hollis for more than 35 years and have developed a strong relationship with the company. Throughout our business partnership we have provided a variety of print materials including meter tickets, business forms, labels, memo pads, work order forms, and various promotional items.
As their business has changed with time, so have their printing needs. Acu-Data is a firm believer in embracing and growing with technology just like Alvin Hollis, and we have always been there to evolve with them. Here are a few examples:
we have developed specialty meter delivery tickets exclusively for their new heating products and new truck meters
we streamlined their print inventory needs, by storing their tickets in our warehouse at no additional cost and release them as needed.
we provide monthly inventory reports at no cost to them so we continue to maintain healthy levels of print inventory at all times throughout the changing seasons
we even print thousands of memo pads for the company to give away every year and provide them promotional items for their holiday gift giving needs
Alvin Hollis, being an energy based business, is busiest during the winter months. By managing their fluctuating inventory needs for them in-house, and keeping them informed of inventory on-hand, we ensure they never run out of critical print inventory when it matters most.
A Valuable Relationship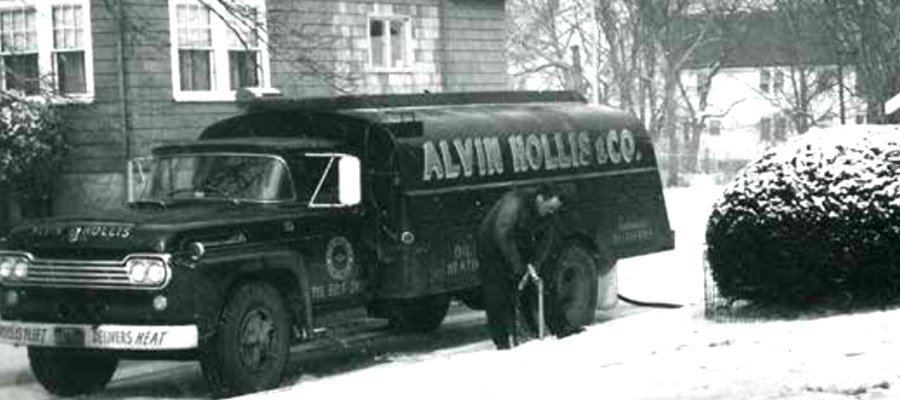 Alvin Hollis and Acu-Data both benefit from this wonderful relationship. We were excited to have been able to visit them this year and get to know them on a much more personal level. We believe maintaining a face to face connection and meeting with customers is what it means to truly care about customer service. We care about our business as well as the business of our clients. Congratulations to Alvin Hollis for all their success and we hope our relationship continues for many years to come.
We've Been in the Customer Service Business for Decades!
We believe customer service is critical to establishing, keeping, and growing relationships with our customers. We offer one-on-one personalized attention no matter how big or small your printing or promotional product needs might be. We did not start this business just to deliver products and services. We founded Acu-Data to deliver better solutions for businesses in need of commercial printing, warehousing, and marketing solutions. We are more than just paper and ink!
If you would like to learn more about us or our line of print-related and marketing services, please contact us online and schedule a no-obligation consultation or call 1-800-535-6563 to get started today!