Oil, Gas, & Electric Printing Solutions
Acu-Data Business Products has been delivering printing services and promotional product solutions to the energy industry since 1978. We service oil dealers such as Meenan, electric companies like PSE&G and many other energy providers who service customers nationwide as well as within our local Butler NJ and Northern New Jersey area.
Printing needs within the energy industry fluctuate with the changing seasons and most energy companies deal in high volume when it comes to printed forms and collateral they need for ongoing business operations as well as onsite visits with their customers. Because of these specific needs, energy industries need a print vendor who is reliable, able to manage large orders, and who has experience dealing with the needs of a seasonal business.
For oil dealers, in particular, we use special materials in the production of our meter tickets which consist of a multi-part meter ticket. These tickets were designed to simplify a service technicians visit by leaving a record of the visit at the customer's location as well as enabling the technician to retain a copy for company record keeping. Multi-part meter tickets enabled service technicians to record gallons of heating oil delivered to any location.
In addition to specialized solutions and meter tickets, Acu-Data provides a full-line of print products and services including letterheads, envelopes, work order tags, mailers, direct mail service, checks, invoices, statements, and much more.
If you are interested in scheduling a consultation to learn more about printing services, contact us today.
Energy Industry Useful Links
How We Overhauled Oil Dealer Printing Solutions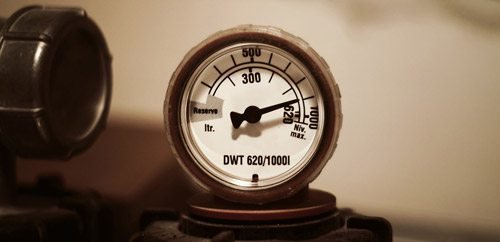 With nearly 40 years of experience servicing the energy industry, Acu-Data has created a specialized set of services to cater directly to the needs of the oil industry. In particular, we have been instrumental in creating meter ticket solutions that integrate seamlessly into your energy monitoring services.
In most cases, the meter tickets you use today may have been designed by Acu-Data. In the 1970s, we worked with many service bureaus (synonymous with medical billing services today), which helped businesses convert their accounts receivable to actual invoices and billing statements which could be mailed to customers as an invoice or transitioned to any other type of print piece the customer needed. Before the modern computer era, making sense of accounting, written invoices, and other forms of recording money owed was a real challenge!
One service bureau, in particular, needed our help. Petrodata, at that time, had aligned itself with oil dealers to help assist them with their accounting and service record needs. Oil dealers would provide Petrodata with written meter tickets making note of the quantity of oil delivered to a particular customer and Petrodata could have this data converted and then printed as an invoice or a meter ticket.
As Petrodata was not a printing company but simply a data processor, they struggled to accommodate the needs of oil dealers who were looking to customize their meter tickets.  Dealing with the needs of their oil industry customers had become a losing operation for them as they lacked the expertise in printing to deliver solutions their oil dealer customers needed most.
With limited print experience, Petrodata relied on our team's expertise to meet the needs of their oil dealer customers but initially kept us at arms-length. Without direct contact, communication was extremely difficult as the print needs of the oil dealer industry remained in the hands of a data processing company.
Given our business relationship with Petrodata, we proposed a solution to establish a presence within their facility as their internal print department and work directly with their oil dealer customers. By doing this, Acu-Data single-handedly reversed the downward trend for Petrodata and streamlined communications with Oil Dealers. We also were able to deliver a much higher quality meter ticket which still exists for many Oil Dealers today.
Overtime, Petrodata transitioned its business into other areas, leaving Acu-Data as the go to print resource for oil dealers. Since establishing this strong relationship with the oil industry, we have maintained our business relationship with many of these customers for more than 40 years.
We helped Petrodata increase profitability and cut expenses, once again proving Acu-Data is
so much more than just paper and ink

.
What can we do for you?
To learn more about specialized print solutions for your energy company, contact us today.
Energy Providers Need More Than Just Printing
With seasonal business, comes the unpredictability of knowing how much inventory you need on hand to cover your busiest parts of the year.
You also face the challenge of knowing how much to order or how quickly can additional items be printed to carry you through if you run out. Businesses can spend a fortune in print costs if they buy too much, or pay rush fees if they need an immediate turnaround on their order. Also, customers who store large quantities of print materials at their facility could run the risk of exposing their print inventory to mother nature. Heat, cold, humidity, and other varying weather factors can ruin or permanently damage printed materials if stored improperly.
Acu-Data solves this problem in three ways.
#1 Free Warehousing and Efficient Fulfillment
As a complementary service to our energy customers, Acu-Data offers free on-site storage for forms we print or generic forms we keep on hand for your needs. Based on past inventory records, we keep an ample supply on hand and proactively maintain your inventory monthly so you'll always have the forms and print items you need most, at a moment's notice. Acu-Data provides this service at no cost to customers and can process orders for shipping the same day or within 24 hours. For local New Jersey customers, we also offer delivery or on-site pickup as well.
#2 Inventory Reporting
Acu-Data offers free, customized inventory reporting. Our standard reporting includes a comprehensive monthly report which provides depleted as well as on-hand inventory for the current month. Reporting ensures you never run out of the items you need most during your busiest seasons. Inventory reporting solves a less obvious challenge for energy companies dealing with high print volume as well. By tracking inventory regularly, we can accurately estimate inventory needed during your busiest and your slowest seasons, which saves thousands of dollars in wasteful overprinting. Additionally, if your print items need updating, reprints cost a fraction compared to reprinting an entire year's worth of inventory.
#3 Climate Controlled Storage
As a bonus to free on-site storage, your inventory is kept in our climate controlled warehouse facility. So no matter how much inventory you prefer to keep on hand, the integrity of your print inventory will not be affected over time. Print materials can lose their shelf life quickly if exposed to fluctuating temperatures or humidity.
Acu-Data is more than just paper and ink. If you want to learn more about our Warehousing, Inventory Management and Fulfillment Services for your business contact us today
Promotional Products Help Make a Lasting Impression with New Prospects
Contrary to popular belief many oil, gas and electric service providers are small businesses. Competition is fierce and while providing energy solutions is their primary focus, most energy companies offer repair and maintenance services as well.
Helping your potential customers understand the full range of services you provide may hinge on the materials you leave behind for their consideration.
Have you considered integrating promotional products into your sales and marketing materials?
Promotional products give energy companies new and innovative ways to advertise their products and services and leave a tangible keepsake with customers. Some companies use promotional products to say thanks while others utilize them to promote a new product or service. Promotional items are also effective during trade shows, conferences, and other networking events to help leave a lasting impression with potential customers.
Energy companies have a unique advantage over other businesses since the majority of their customers use their service every day. Therefore, practical items that customers might use such as calendars, notepads, tote bags, pens, or even a thermometer magnet to keep on the refrigerator can keep your company top of mind with customers on a regular basis. Enhancing your marketing materials with a simple promotional product can truly make a lasting impression.
Acu-Data specializes in promotional products and is an authorized distributor and member of ASI (Advertising Specialty Institute), the leading promotional product supplier nationwide. As a courtesy to customers, we simplify the process of finding the perfect product for any marketing campaign. Our resourceful team works one-on-one with each customer to learn more about their specific needs and helps find the right product to meet your needs. We also assist with setting up your artwork to personalize promotional products with you branded look.
If you would like to browse our selection of promotional products before scheduling a call, please visit our Promotional Products Website.
In addition to specialized print solutions and storage, Acu-Data provides a full-line of print products and services including business cards, letterheads, envelopes, multi-part forms, specialty forms, meter tickets, office-related print materials such as folders and notepads, direct mail services, and much more. If you are interested in scheduling a consultation to learn more about printing and form management solutions for your energy company, contact us today.