Many customers have forms or print materials they use in their business operations which require frequent reprints or resupply.
In fact, in all three of our core markets: Oil Dealers, Real Estate Brokers, and Healthcare Related Businesses, we have developed customized warehousing and inventory management solutions to meet the demands of their industry, their clients, and their organization.
Real Solutions Require Active Listening and Foresight
As a responsible print partner, we pay attention to the needs of our customers and do our best to find new ways to improve their workflow or finished product. We noticed that many customers were purchasing printed items in quantities that did not correlate to what they needed on-hand or in the immediate future.
Their purchasing decision was for two reasons. First, keeping the printed items on-hand and in large quantities was convenient and ensured they never ran out. Second, ordering in bulk would save on costs.
However, both prove to be untrue in the long run. Here's why.
Convenience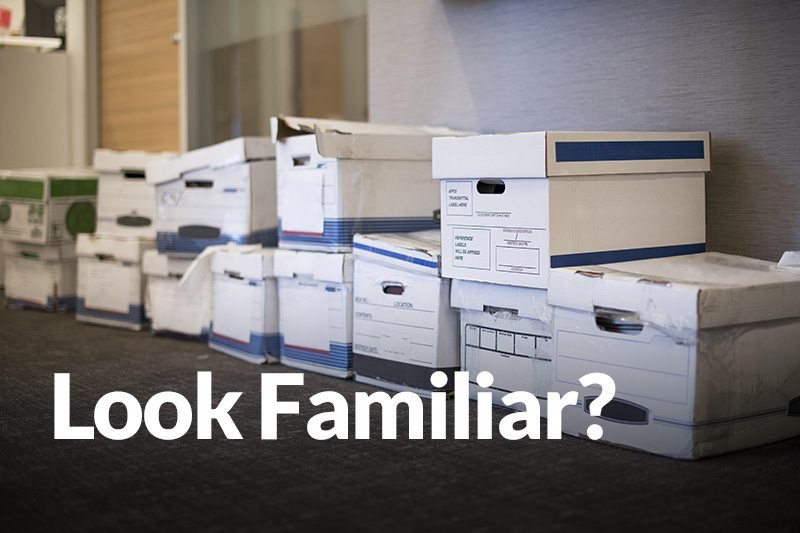 While keeping printed materials on hand is convenient, without proper storage, some of your inventory can be damaged by humidity and heat, or cold temperatures.
Ever wonder why the envelopes you purchased are all stuck together or the forms you had printed look faded or warped?
Acu-Data offers a climate controlled warehouse facility and free warehousing for customers in need of on-going reprint and supply for their printed materials. Our complimentary service not only enables your business to save on storage space at your location but ensures the product is available and ready to ship within 24 hours of your request. Often, we even ship the same day. And, if you are local to our Butler New Jersey location we can provide same day pickup or delivery in some cases.
Buying & Storing in Bulk
Ordering in bulk will save on costs for printing, but may not truly reflect the amount needed to keep an ample supply of forms or printed materials on hand for your business.
As part of our warehousing and fulfillment services, Acu-Data also maintains and provides inventory reports on a monthly basis. This on-going complimentary service enables your business to get a clear picture of how much product gets used in a given month or year. Managing your inventory helps you maintain the right amount of product that your organization needs which saves on cost and wasteful high-quantity orders.
Inventory management is also cost-effective if your printing needs involve items that may have to be updated or changed from time to time. For example, customers in Healthcare often have to keep their forms updated to conform to the most recent government regulations which can change several times in just one calendar year.
By keeping the quantity on hand to a manageable amount, the cost of making frequent updates to your documents and reprinting will be a fraction of what it would be to replace a large bulk order print job.
Keep Your Print Inventory Top of Mind
We get it. You have a business to run, accounts to manage, and employees to oversee. Worrying about your print item inventory is more than likely low on your list of priorities.
Even if you like to wait until the 11th hour or until you are completely out of inventory before you give ordering more a second thought, Acu-Data is staying ahead of the curve, keeping an ample supply on-hand, so you are never left empty handed.
Warehousing Generic & Continuous Forms
Acu-Data specializes in generic forms inventory management and has been helping specific markets such as Oil Dealers keep an ample supply of specialty forms in stock as needed. Our generic and continuous forms are guaranteed to be in stock and can ship within 24 hours of receipt of your order.
Our line of generic forms includes both meter tickets and numbered checks, both of which are considered specialty items due to the unique paper used in production. These can often be hard to find and many print vendors or business forms suppliers do not carry these specialty items in ample supply.
Take the Worry Out of Inventory Management for Good!
Acu-Data takes inventory management seriously.
We are proactive and have even been known to give our customers a "nudge" if we see they are getting low on their print items, so the time needed to reprint or resupply their print materials does not create problems or downtime for their business. Proactive Inventory management is extremely beneficial to any organization that relies heavily on printed items for managing day-to-day operations, staying compliant with federal, state, or local regulations, or servicing customer accounts.
Customized Warehousing Solutions
Not all customers require a standardized approach to fulfillment. We offer a more customized approach to inventory management for customers who store a large quantity or a variety of printed products, or who have a more demanding resupply need that requires a unique inventory management and fulfillment approach.
For customers dealing with a large number of items, our warehousing services make it possible to stay on top of all items easily. Our inventory system delivers peace of mind and ensures your organization has the quantity of product needed on hand to effectively continue business operations as usual.
If you would like more information about our Warehousing or Inventory Management and Fulfillment Services, or would like to request a quote, please Contact Us today or call (800) 535-6563.