There are many ways to promote and grow your business, but most small businesses avoid the hassle of printing their marketing materials until the eleventh hour.
We get it!
With everything else on your plate putting in a print order is not a top priority until it is a priority.
Understanding what type of printing you should choose when the need arises can also add further frustration. You may have heard of digital printing as well as offset printing but might not have a clue what the difference is or which one is best for you. Each type of printing is suited for a specific set of needs.
Take a few moments and learn more about digital and offset printing below. In just a few minutes you'll have the information you need to choose the right print option for you which can save hundreds or thousands of dollars in some cases.
What is Digital Printing?
Digital printing is a process that many people today are already familiar with if they have used a home printer or used a small print job vendor such as FedEx Office & Print Center or Staples. Digital printing uses toner and liquid ink to print on paper or similar material. In other words, the printer prints directly on the medium using ink and toner already loaded into the machine. Printing is done directly from a digital file such as a PDF, image file, or published document such as Microsoft Word, Adobe InDesign, and more.
Pros and Cons of Digital Printing
Pros
Should be used for low volume projects (i.e. no more than 1000 copies).
Ideal for smaller print sizes such as small flyers, pocket brochures, business cards, etc.
Can be used to customize every copy or make slight variations to every copy (such as adding unique address information to each direct mail piece).
Cheaper than offset printing because of the ease of setting up and lower ink costs. However, with higher volume, the price increases or stays the same per unit.
Offers a fast turnaround for projects.
Proofs tend to be more accurate than offset printing or often unnecessary since the file is output direct to the print and prints as seen in the original file.
An environmentally friendly option due to less waste and fewer chemicals used in the process.
Cons
Colors are not always consistent with digital printing.
Color options are limited. Some printers may be able to accommodate Pantone colors, but it requires calibration.
Limited in the specialty options available during printing such as spot varnish, foil stamping, and others. After printing is finished both digital and offset offer the same finishing options such as a folding, perforations, numbering, drilling, cutting, binding, padding, cutting, and more.
Can only print on paper or other materials that feed through the machine. Cannot print on materials such as metal or plastic.
Defining Offset Printing
Offset printing is a high volume type of printing technology. The process of creating the initial offset print will take longer, but overall, a large volume of prints can be made easily.
The offset printing process begins by burning an image to a negative, and this reversed image is burned onto a metal or paper printing plate. (In some cases technology allows the plate to be created direct from the digital file eliminating the need for negatives.)
The print area of the document itself is raised slightly on the plate and the area not to be printed on the plate attracts a film of water which keeps it protected from the ink. This way only the area burned to into the plate is inked and transferred to the printing press.
Once the printing plate is prepared, the plate is attached to the printing press on a special roller. Then by applying ink to the plate, the image is transferred from the plate onto a rubber sheet which also is affixed to a roller. This part of the process is where offset printing gets its name as this is called offsetting.
Once the image from the plate transfers to the rubber roller it is then applied to the printing surface (almost like a giant stamp). Pretty simple right?!
Pros and Cons of Offset Printing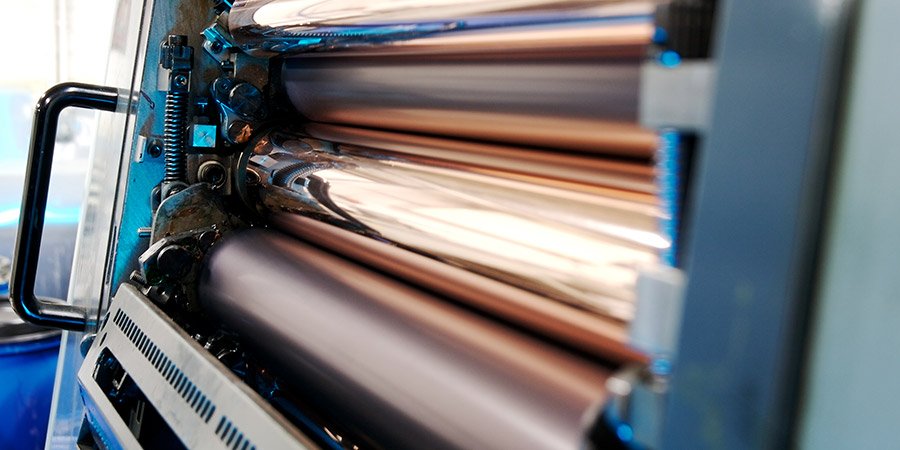 Pros
Offset printing is the ideal option if you are interested in creating a large volume of prints.
Able to print on a larger surface area and can, therefore, create a larger print.
The quality of the prints is consistent, and the quality of the print is much higher. The images tend to be clear and sharp.
Can print images with any Pantone or PMS colors so your options are not limited.
There are many options for the finishing of prints because of the multiple press heads on offset printers. Therefore, specialty finishes like spot varnishes, coatings, foil stamping, and much more can be added to your print piece during production.
Can print on a variety of mediums such as metal, wood, plastic, and even cloth.
Since your print job is burned to a metal/paper printing plate, setting up the job in the future or making thousands upon thousands of prints will never affect the quality.
Cons
Offset printing is limited to printing what burns onto the printing plate. There is no way to customize each piece as it's printing.
Offset printing can be expensive for smaller print jobs, but the price goes down per unit as the volume goes up. For example, 5,000 letterheads might cost $300, but 10,000 letterheads may only cost $350.
The turnaround time for offset printing is lengthy because of a required drying time due to thicker ink and time to set up the printers with each project.
Offset printing is not an extremely eco-friendly option.

As part of the process, test prints create waste as do printing plates, and there are several chemicals that must be discarded which are used to create the print plates and to clean the printing press.
Also between each print job the print rollers must be cleaned and sometimes large amounts of ink are disposed of after the job is complete.

Proofs created from offset printing can differ from the final product and may cost additional money to produce.
So What Does That Mean for Your Project?
When deciding which method of printing will be best for your project, it is always best to examine your needs against the pros and cons for each method. Just follow the rule, if your print volume needs are less than 1,000, it's more than likely digital is the way to go. If you need special finishes, high-volume or large format printing look to offset printing to provide the most cost-effective options.
Leave it to Us!
We spend our day working with clients who need help with both offset and digital print jobs. We understand the differences and, in most cases, will know in mere moments which print option is best for your needs and your wallet. Our team welcomes the challenge of putting a printing plan in place for your project and providing you with the best options possible given your timeframe, budget, and printing requirements.
Let Acu-Data show you why we are so much more than just paper and ink. Contact Us today or call (800) 535-6563 to discuss your project in detail.