Small businesses are the backbone of the economy but often are forgotten in the larger scope of things. Larger companies with massive brand awareness and appeal are put in front of consumers daily which may make it seem like smaller businesses are falling by the wayside and have no real hope of competing. However, smaller businesses continue to deliver unmatched levels of customer service and personal attention. Consumers have begun to value and appreciate this personal connection more and more as it seems rare or non-existent in most of our business relationships!
Customer Service Where it Matters
Though larger named companies do their best (in most cases) to talk with customers and really get to the bottom of issues, the simple fact is they cannot provide the real level of one-on-one customer service that a smaller company can. The difference more specifically lies in the automation of the customer service process.
Ever call tech support and feel like the representative is reading off a list of steps or a script? 

Probably because they are.

 

Do they seem genuinely interested in helping you solve your problem? Not especially.

Your problems may not fit the mold but representatives often will not deviate from their designated script or troubleshooting steps. They also take little initiative to come up with other possible solutions or suggestions to help solve your problem or answer your question.
With large companies such as a chain grocery store, it is impossible for the owner or the proprietor of the business to speak directly with the customer to resolve issues. These large chains often automate the customer service process by outsourcing to call centers that are not even in the same state in most cases. Though this does get issues addressed (eventually), it can make the customer feel like they are nothing more than a dollar sign and not a main priority. Many franchise owners or chain owners also have little control over how they choose to handle customer service. The parent company/entity is calling the shots and leaves little room for one location to handle customer service differently.
Smaller businesses, however, are on the front line and are able to directly speak with customers to resolve issues. Small businesses have only themselves to rely on for establishing a strong, positive, and beneficial customer service platform. Therefore, small businesses can utilize these customer service opportunities to strengthen and deepen relationships with customers.
Small Business and Growing a Positive Reputation
Reputation is everything and often times large chain stores can hide behind their big names and their reputation when it comes to customer service that is lacking. Many people will chalk bad customer service up to the size of the company stating that they must not have time to talk with every customer or that it is a problem that the higher ups do not know about. Even with social media and other online review sites keeping larger businesses accountable and more transparent, with so many consumers purchasing products the small minority who may not be pleased with service are far outweighed by the ones who are not experiencing difficulties.
Small businesses are held to a higher standard. While most large companies services thousands or millions of customers a year, a small business may service a few dozen or a few hundred. Therefore, the way a small business treats and handles the needs of these customers is critical to establishing and maintaining a positive reputation and building a stronger brand.
Small businesses also have a distinct advantage because often the ones running or operating the business are the ones most customers deal with regularly. You can see and interact with the people that make the business work first hand behind the counter or desk… working day in and day out to make their business as great as they possibly can. This builds an unmatched level of trust and confidence when your clients know they're well taken care of. Customers also connect and are drawn towards this level of accessibility in most cases, and are more likely to share their experience (if it was positive) and come back time and time again. Customer service and how you treat your customers is a big part of your overall reputation.
Using Customer Service to Build a Client Base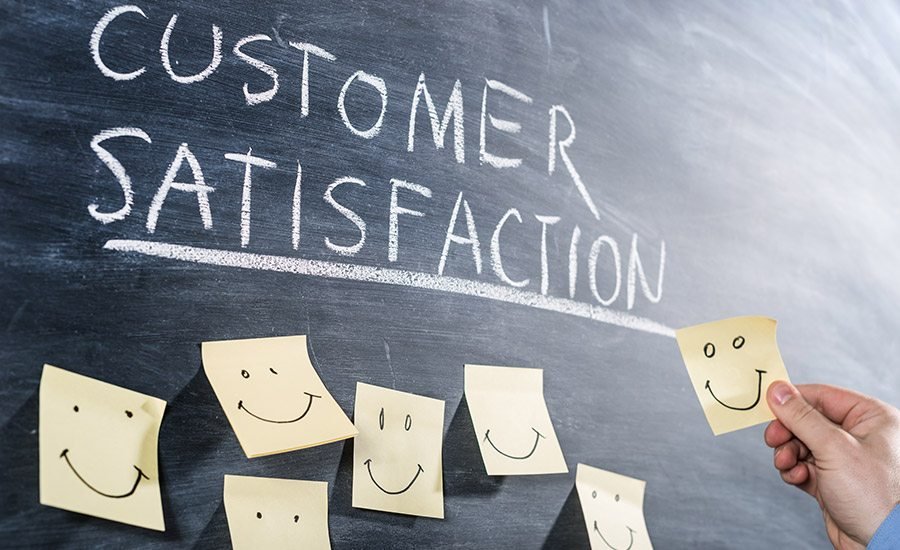 With most large name chain stores people are going to shop there even if someone has a bad experience. There are really not that many alternatives and prices are competitive making these larger stores seem like the only option. That being said, large chain stores rely far less on building and cultivating a loyal customer base as their pricing, quality, and accessibility often handle this for them.
Small businesses have a special challenge that they must ultimately meet. We all must build and grow our client base from the ground up and maintain that base without losing them to big name competitors. Great customer service can be the difference between a client base that is constantly growing and one that is going to dwindle.
Many businesses might assume, the smaller you are the less your reputation matters. However, that is the farthest thing from the truth. The smaller your businesses, the harder you need to fight to build a strong reputation. This not only increases the strength of your brand, but will lead to positive customer experiences, client referrals, and help potential customers buy from you (the little guy) because your reputation and customer loyalty says all it needs to say about your business. Word of mouth and "brand advocates" who actively promote your product and services, not because they're paid to, but because they truly love it and want to share, has become extremely common in today's business world.
Use this to your advantage by not only creating happy clients but also brand advocates!
We've Been in the Customer Service Business for Decades!
We believe customer service is critical to establishing, keeping, and growing relationships with our customers. We offer one-on-one personalized attention no matter how big or small your printing or promotional product needs might be. We did not start this business just to deliver products and services. We founded Acu-Data to deliver better solutions for businesses in need of commercial printing, warehousing, and marketing solutions. We are more than just paper and ink!
If you would like to learn more about us or our line of print-related and marketing services, please contact us online and schedule a no-obligation consultation or call 1-800-535-6563 to get started today!